Young Adult Sequoyah Books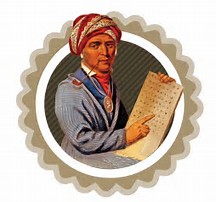 About the Award
The first Sequoyah Children's Book Award was given in April, 1959, making the award the third oldest children's choice award in the nation.

In 1988, the first Sequoyah Young Adult Book Award was given. Twenty years later the YA book award was changed to "Intermediate Award" and a High School award was created and was first awarded in 2010.

The awards are given annually, usually as an event at the Oklahoma Library Association's Annual Conference.

The Oklahoma Library Association honors Sequoyah for his unique achievement in creating the Cherokee syllabary, the 86 symbols representing the different sounds in the Cherokee language.

His statue is one of the two representing Oklahoma in the U.S. Capitol in Washington, D.C.

The son of a Cherokee mother and a white trader father, Sequoyah, Cherokee for "Lame One," was also known by his English name, George Guess.

A cabin built by Sequoyah as part of a United States government grant still stands near Sallisaw. This grant was the first given for literary achievement in the United States.
Children's Sequoyah Winners
1959 Old Yeller by Fred Gipson
1960 Black Gold by Marguerite Henry
1961 Have Space Suit, Will Travel by Robert Heinlein
1962 The Helen Keller Story by Catherine O. Peare
1963 Mystery of the Haunted Pool by Phyllis Whitney
1964 Where the Panther Screams by William Robinson
1965 A Wrinkle in Time by Madeleine L'Engle
1966 Rascal by Sterling North
1967 Harriet the Spy by Louise Fitzhugh
1968 Gentle Ben by Walt Morey
1969 Blackbeard's Ghost by Ben Stahl
1970 Mustang by Marguerite Henry
1971 Ramona the Pest by Beverly Cleary
1972 Man in the Box by Mary Lois Dunn
1973 The Trumpet of the Swan by E. B. White
1974 Flight of the White Wolf by Mel Ellis
1975 Tales of a Fourth Grade Nothing by Judy Blume
1976 How to Eat Fried Worms by Thomas Rockwell
1977 The Toothpaste Millionaire by Jean Merrill
1978 Shoeshine Girl by Clyde Robert Bulla
1979 Summer of the Monkeys by Wilson Rawls
1980 Kid Power by Susan B. Pfeffer
1981 Get-Away Car by Eleanor Clymer
1982 Bunnicula by Deborah and James Howe
1983 A Dog Called Kitty by Bill Wallace
1984 The Cybil War by Betsy Byars
1985 Thirteen Ways to Sink a Sub by Jamie Gilson
1986 Dear Mr. Henshaw by Beverly Cleary and
Just Tell Me When We're Dead by Eth Clifford
1987 Night of the Twisters by Ivy Ruckman
1988 Christina's Ghost by Betty Ren Wright
1989 The Sixth Grade Sleepover by Eve Bunting
1990 Fudge by Charlotte Graeber
1991 Beauty by Bill Wallace
1992 The Doll in the Garden by Mary Downing Hahn
1993 Weasel by Cynthia DeFelice
1994 Shiloh by Phyllis Reynolds Naylor
1995 Horror at the Haunted House by Peg Kehret
1996 The Ghosts of Mercy Manor by Betty Ren Wright
1997 Nasty, Stinky Sneakers by Eve Bunting
1998 Titanic Crossing by Barbara Williams
1999 101 Ways to Bug Your Parents by Lee Wardlaw
2000 The Million Dollar Shot by Dan Gutman
2001 Holes by Louis Sachar
2002 Dork in Disguise by Carol Gorman
2003 Because of Winn-Dixie by Kate DiCamillo
2004 Skeleton Man by Joseph Bruchac
2005 The Stranger Next Door by Peg Kehret
2006 The Tale of Despereaux by Kate DiCamillo
2007 The World According to Humphrey by Betty Birney
2008 Angus and Sadie by Cynthia Voigt
2009 Clementine by Sarah Pennypacker
2010 Lawn Boy by Gary Paulsen
2011 All the Lovely Bad Ones by Mary Downing Hahn
2012 Dragonbreath by Ursula Vernon
2013 The Strange Case of Origami Yoda by Tom Angleberger
2014 Sidekicks by Dan Santat
2015 The One and Only Ivan by Katherine Applegate
2016 Chews Your Destiny: The Gumazing Gum Girl! by Rhode Montijo
INTERMEDIATE SEQUOYAH WINNERS
(2010 - )
2010 Unwind by Neal Shusterman
2011 The Hunger Games by Suzanne Collins
2012 Positively by Courtney Sheinmel
2013 After Ever After by Jordan Sonnenblick
2014 Michael Vey: Prisoner of Cell 25 by Richard Paul Evans
2015 The False Prince by Jennifer A. Nielsen
2016 Goodbye, Rebel Blue by Shelley Coriell
HIGH SCHOOL
SEQUOYAH WINNERS
(2010 - )
2010 Thirteen Reasons Why by Jay Asher
2011 The Hunger Games by Suzanne Collins
2012 Hate List by Jennifer Brown
2013 Clockwork Angel: The Infernal Devices by Cassandra Clare
2014 Divergent by Veronica Roth
2015 The Fault in Our Stars by John Green
2016 The 5th Wave by Rick Yancey
NEW! 2017 Sequoyah Book Award Winners
The Sequoyah Committees are pleased to announce the winners of the Sequoyah Book Awards for 2017:
Children's: The Doll Graveyard by Lois Ruby

Intermediate: The Crossover by Kwame Alexander

High School: Wolf by Wolf by Ryan Graudin