Congratulations to our Smithville Braves Cross Country Team! We took 23 athletes to compete in their first meet today! HS Boys: Collin Johnson 7th Place Brendan Gallups 19th place Mike Murray Memphis Murray HS Girls 2nd place team competition: Belicia Parris 15th place Beth Bowen 16th place Lizzy Polk Bethany Caldwell Alexis Qualls Makynlie Charlton JH Boys Finished 3rd in team competition. 4 guys finished in the 20's for good points. Brayden Barton 10th Place Noah Murray Jraygan Jacobs Colter McReynolds Gavin Hobbs Brady McIntosh JH Girls finished 2nd behind Wewoka in the team competition. Chloe Belknap 6th place Kolbie Cogburn 10th place Hailee Johnson 13th place Whitley Nichols 14th place Acelynn Scarberry 19th place Maggie Boles Hinley Montgomery Way to represent!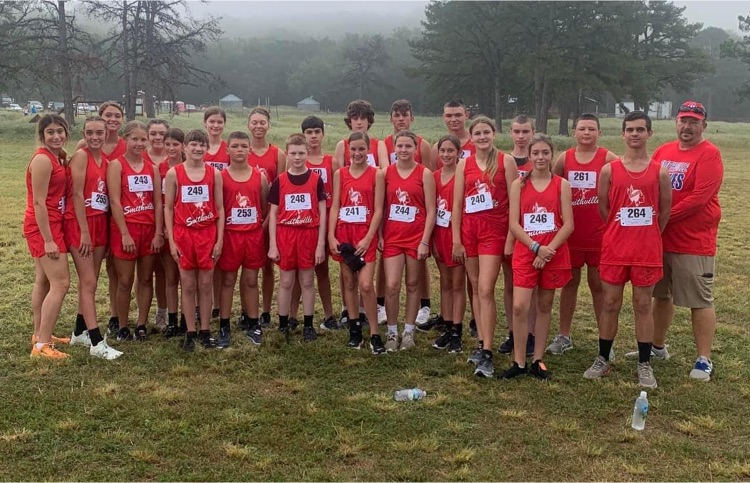 JH Softball SEOC Tournament in Haworth!! September 14th & 15th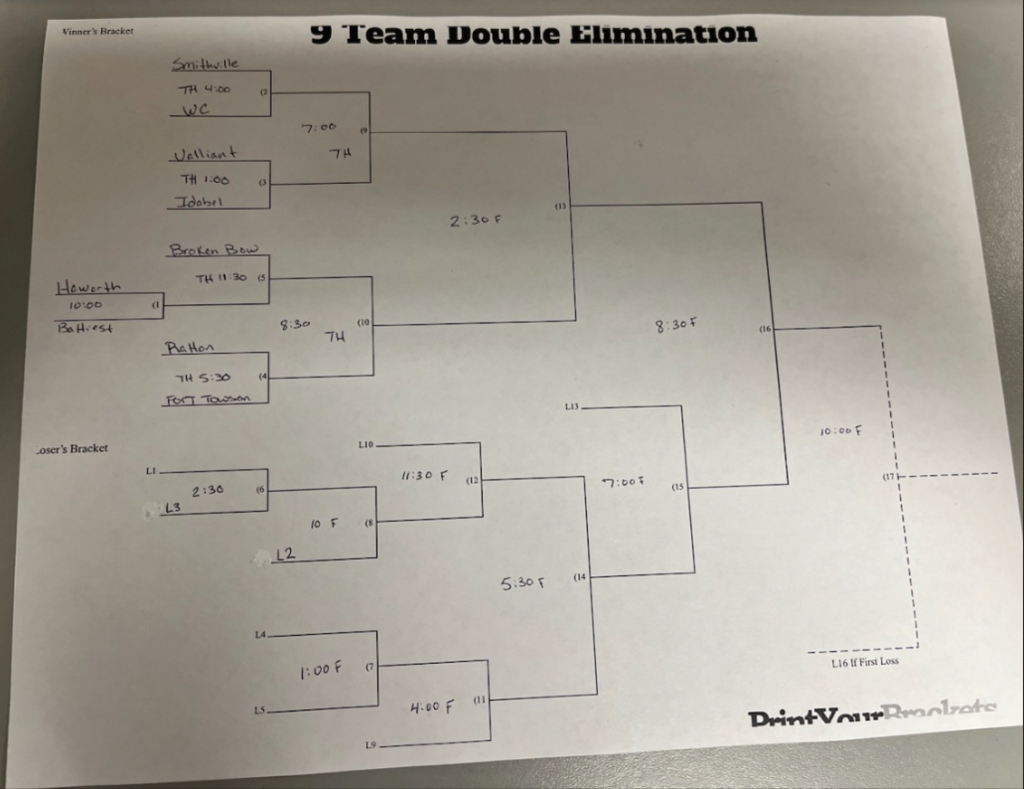 Hello Everyone!! We are currently working on the 2023-2024 Smithville Yearbook. We would appreciate any sponsorships we can get. We will make every effort to get out and visit with business, individuals, and churches in our area over the next couple of months. If you would like to request a visit or purchase an ad, please reach out to Amanda Morris. We thank you for your continued support!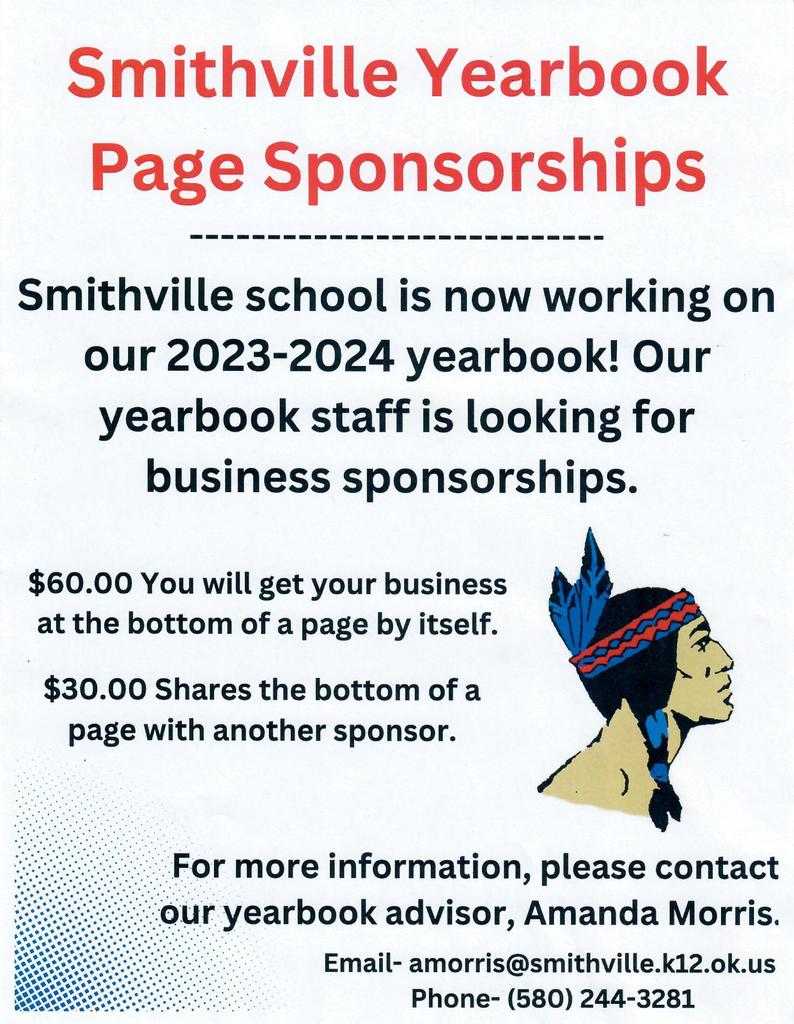 3rd and 4th Basketball Festival!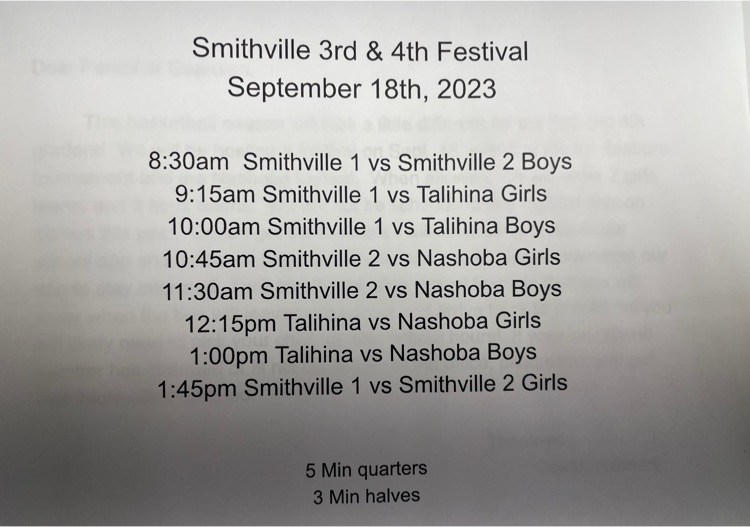 September Elementary/Middle School Calendar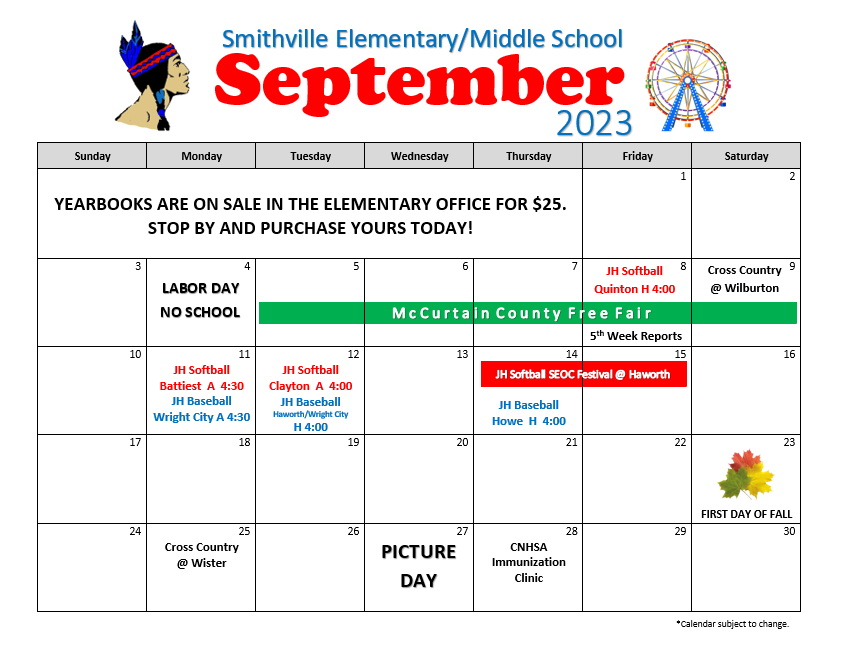 Cameron Tournament Bracket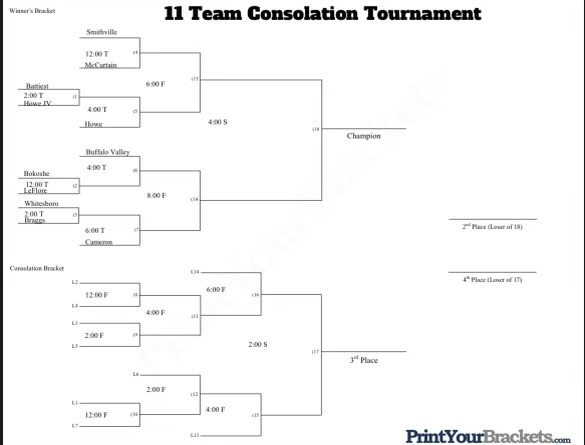 Have a great weekend! Remember…No School on Monday!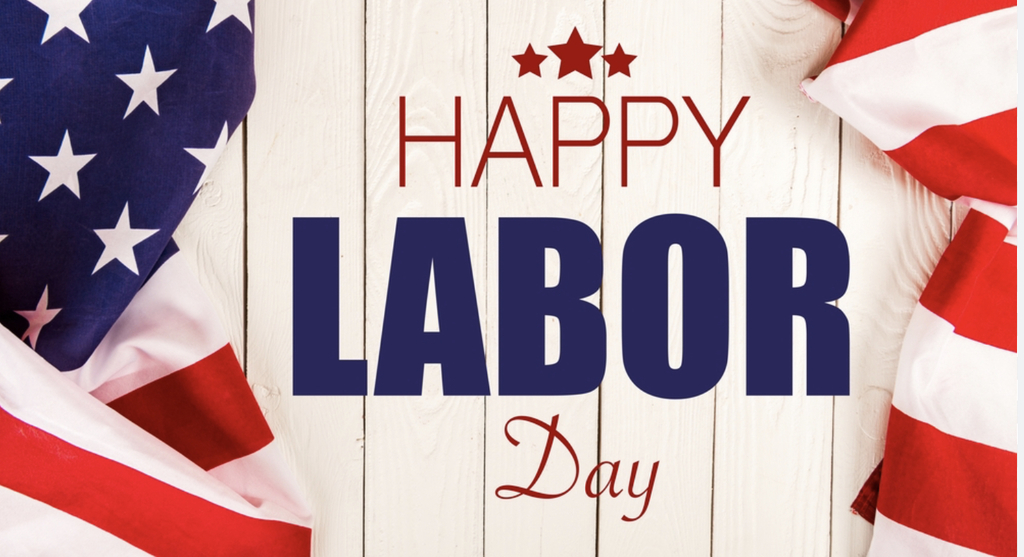 Congratulations to our August readers of the month: K- Evelyn McBroom, 1st grade- Kade Nichols, 2nd grade- Rener Melson, 3rd grade- Slate Smith(not pictured), 4th grade- Anzlie Charlton, 5th grade- Jake Boles, 6th grade- Benjamin Bowen(not pictured), 7th grade- Aspen McIntosh (not pictured), and 8th grade- Maggie Boles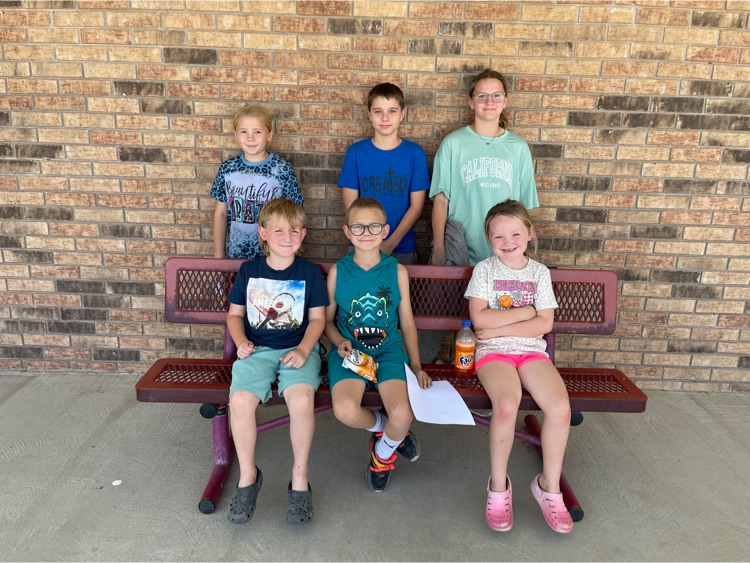 Congratulations to our August students of the month: Pre-K- Reese Bond, K- Desmond Anglin, 1st grade- Olivia White, 2nd grade- Rener Melson, 3rd grade- Case McPeak and Preston Webb, 4th grade- Anzlie Charlton, 5th grade- William McPeak, 6th grade- Piper Fraley, 7th grade- Chloe Belknap, and 8th grade- Allysen Williams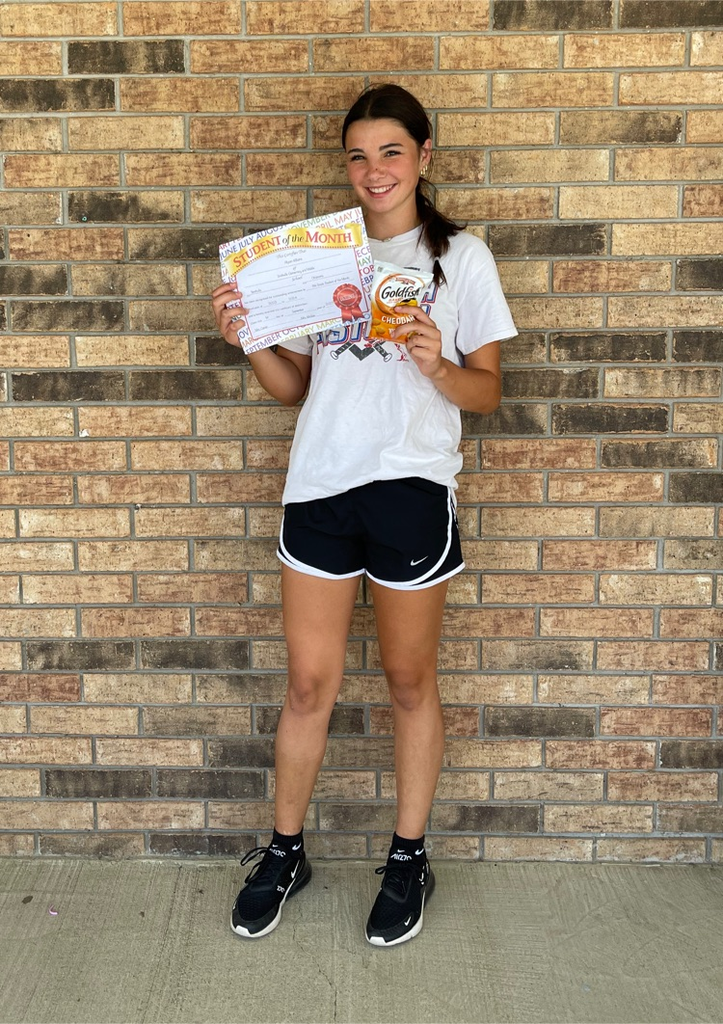 EXCITING NEWS!!!! 2023-2024 Yearbooks are now on sale!!! What's more exciting?? WE WILL HAVE THE YEARBOOKS BACK IN THE SPRING!!! BEFORE SCHOOL IS OUT!!! Order yours now and be ready for the Spring Signing Party!! We will not be ordering a bunch of extra books. This will be a pre-sell order, so don't miss out! You can order online from the QR code or you can order from Amanda Morris at the High School.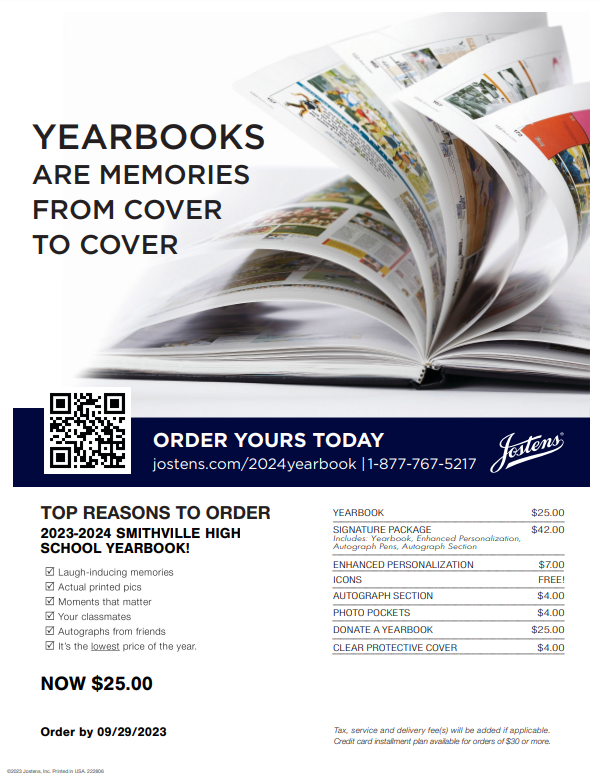 Mrs. Capuano is LOOKING for PIRATE COSTUMES and HAWAIIAN SHIRTS that would fit 5 th and 6th grade students for our "A Pirates Christmas!" Play!! Please let her know if you have any we could borrow!!!
The JH softball game scheduled for Thursday, August 31st, at Idabel has been moved to home and will start at 3pm.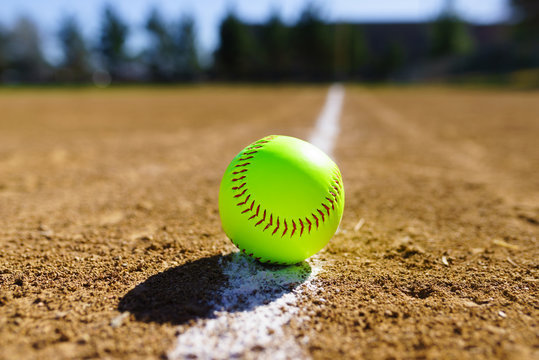 The JH home softball game for today (8/28) will now start at 4:30.
The JH baseball game vs. Haworth scheduled for today (8/28) has been cancelled.

Hunter Safety Course @ Broken Bow this Saturday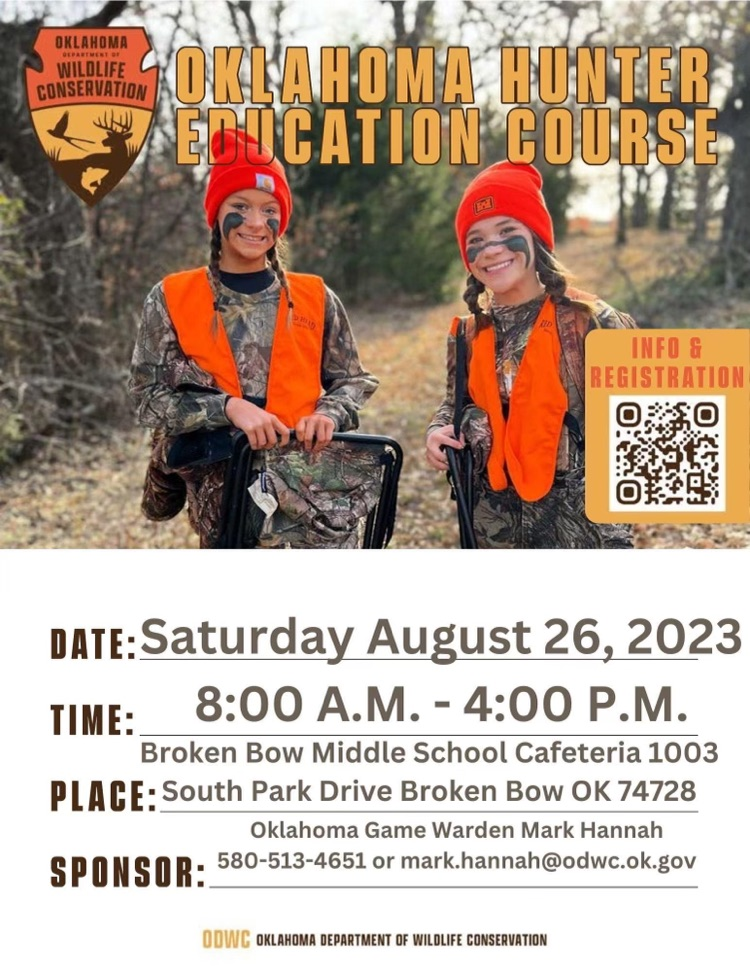 The softball games today against Battiest are at Battiest. Originally this was a home game. Games will start at 5:30 PM with two junior high games. NO HIGH SCHOOL GAMES TODAY!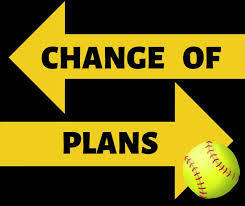 **Updated JH Leflore Tournament Bracket for 8/25 and 8/26.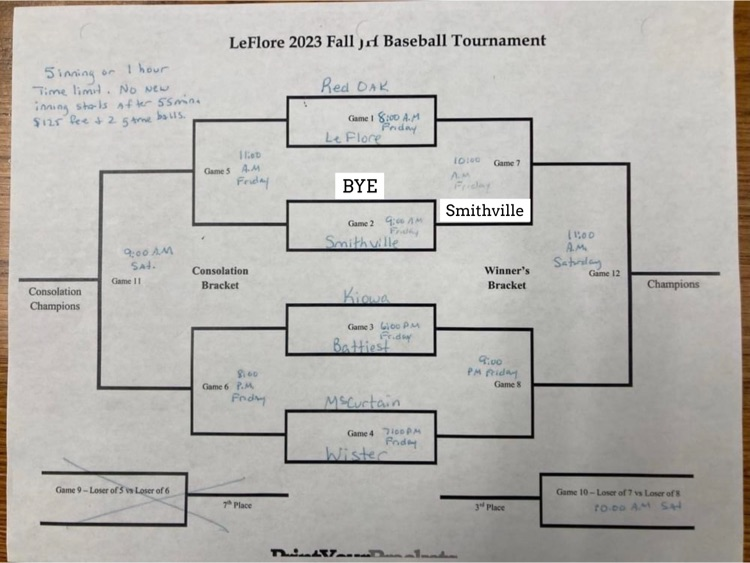 ATTENTION SCHEDULE CHANGE!! The JH baseball game v. Leflore @ home scheduled for today (8/24) has been pushed back to 5:30 with the HS game to follow.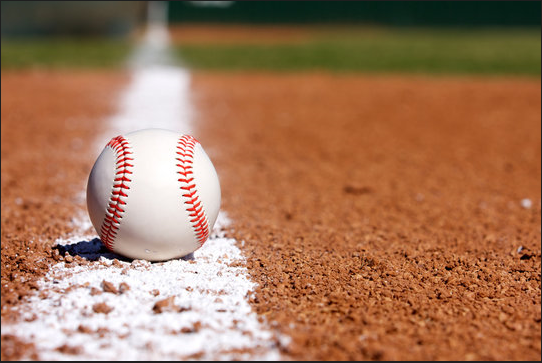 We are excited to announce the members of our 2023-24 Smithville FCCLA Executive Leadership Team! Lizzi Polk, Karsyn Perrin, Bryan Conley, Adalie Keiss, Allie Boles, Belecia Parris, KorleyAnn Batchelor, Hailey Branson, Kayli Nichols, Bethany Caldwell FCCLA is a student-led organization with leadership development as a primary focus. All FCCLA members have the opportunity to become leaders within the organization. The skills gained, connections formed, and opportunities experienced through serving as a member of the Executive Leadership Team in FCCLA will elevate students as they take the lead in families, careers, and communities of today and tomorrow. Stay tuned for exciting work in our school and community as students grow and encourage one another in local and regional leadership!